In just 75 days from now the 2017 UCI BMX World Championships will be held in Rock Hill.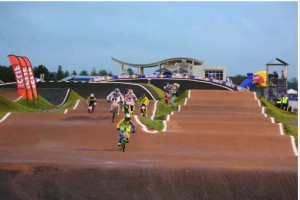 This exciting international event will be held at Rock Hill's BMX Supercross Track located at Riverwalk. Riverwalk is an exciting, fast-growing part of Rock Hill that features one of the world's finest Supercross tracks, and it also attracts cyclists to family-friendly trails and the Giordana Velodrome. The velodrome is another world-class facility for the Olympic sport of track cycling.
Riverwalk also features riverfront residences, restaurants, shops, and a kayak and canoe launch along the beautiful Catawba River walking trail.
The World Championship events will be held from July 25 through July 30. Prior to the big competitive events, there will be a grand opening ceremony in downtown Rock Hill at Fountain Park. The ceremony will be on Saturday, July 22, 2017 with live bands, amusement rides, international food trucks and presentation of flags. Here's a link to the website with all of the details about the event: http://rockhillscbmx.com/
Also, you may wish to click on the following link to a gallery of videos and photos about the BMX Supercross Track, a great overview of the world championship event, and a glimpse of the quality of life in Rock Hill: http://rockhillscbmx.com/gallery/#!
Charlene and I will be serving as volunteers during the event and we look forward to seeing you there.