Yesterday we were treated to an early Thanksgiving Dinner at the home of our daughter, Dr. Arianna Coe, in Knoxville, Tennessee. The food was wonderful, and there was plenty of it, too. I had the honor of leading the toast before dinner, I'm thankful for having had the opportunity to have been there.
Thanksgiving has really become a favorite holiday to me because of all it represents. Thankfulness is one of the greatest virtues that a person can nurture, making life better in many ways. The importance of holding a thankful heart comes to us in many ways, whether it be when the bible says to be "thankful in everything, in all circumstances," or for those who require more pragmatic understanding, the act of being thankful is actually a healthy activity. A number of research studies have shown the relationship between thankfulness and improved health, some of them being very direct, while others are associations, suggesting that thankful persons simply tend to do the things that bring them greater health and well-being. One study indicated that people who wrote about being grateful "were more optimistic and felt better about their lives." From the article 6 Ways Giving Thanks Can Make you Healthier by Jeff Hayward, writing for Activebeat, an on-line magazine.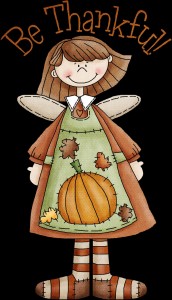 There seems little doubt that when optimism and enthusiasm work together it boosts a person's performance, reduces stress, improves self-esteem, and can even improve a person's ability to gain a restful night's sleep. With so many upsides to the simple act of adopting a thankful disposition, it seems silly to overlook such a valuable, simple to take up part of life.
Maya Angelou said "Let gratitude be the pillow upon which you kneel to say your nightly prayer" and Ralph Waldo Emerson told us to "cultivate the habit of being grateful for every good thing that comes to you, and to give thanks continuously." None of this suggests that adversity doesn't exist or can't find its way to us, but when the negatives occur we don't have to wallow in them. Beyond that, just the act of being thankful can be the first step to pulling one's self up and out.
Getting home late last night and sleeping in our own bed was also a special pleasure, so I'm thankful for having had a good night's rest. Speaking of thankfulness, and I don't think we ever say this too much, thank you for bringing your family members to us for chiropractic care. When you bring the people you care about to us for care, we consider it a special honor and we really appreciate that it means so much to you.